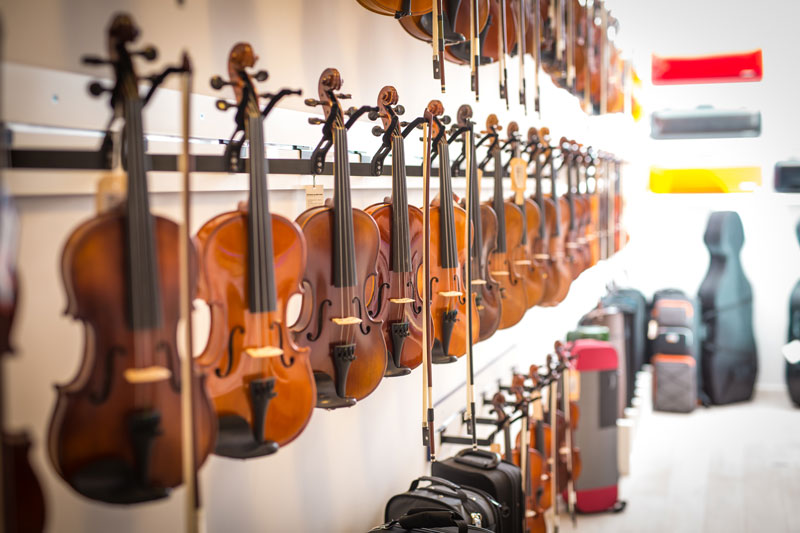 String instruments
Here you will find Saxony's largest selection of string instruments. The spectrum of our assortment ranges from inexpensive starter sets to high-quality individual instruments and master instruments. We work together with renowned manufacturers such as GEWA, Höfner and Yamaha. In addition to acoustic stringed instruments, we also stock a large selection of e-violins and other silent instruments.
-> TO THE BRANDS
Guitars & Ukuleles
The selection ranges from concert and western guitars from leading manufacturers such as La Mancha, Miguel, Pro Natura, Höfner, Tenson, VGS or GEWA. You will find guitars of all sizes and types, for beginners as well as for concert guitarists. The assortment is extended by a selection of ukuleles of different colors and sizes.
-> TO THE BRANDS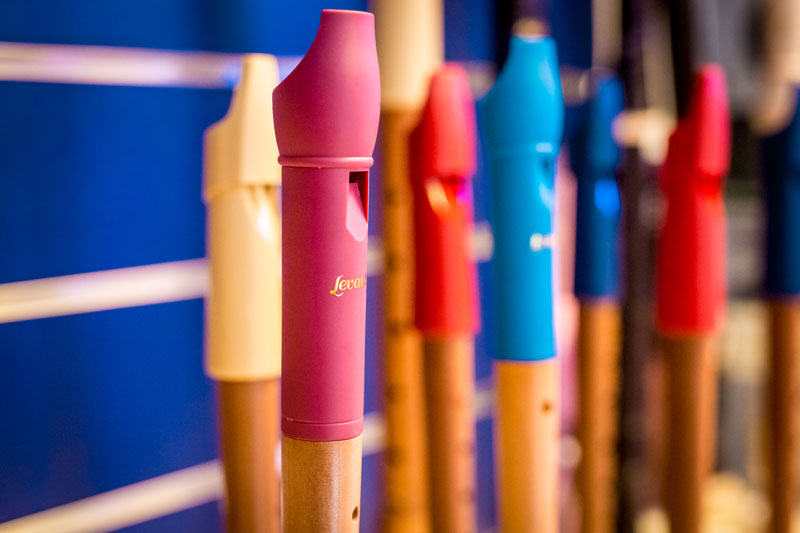 Wind instruments
Our assortment includes a variety of interesting wind instruments. Soprano, alto and tenor recorders from Aulos or Mollenhauer; harmonicas from Seidel; triolas, nose flutes or jew's harps: Professional musicians as well as parents looking for a first instrument for their child will find here what they are looking for.
-> TO THE BRANDS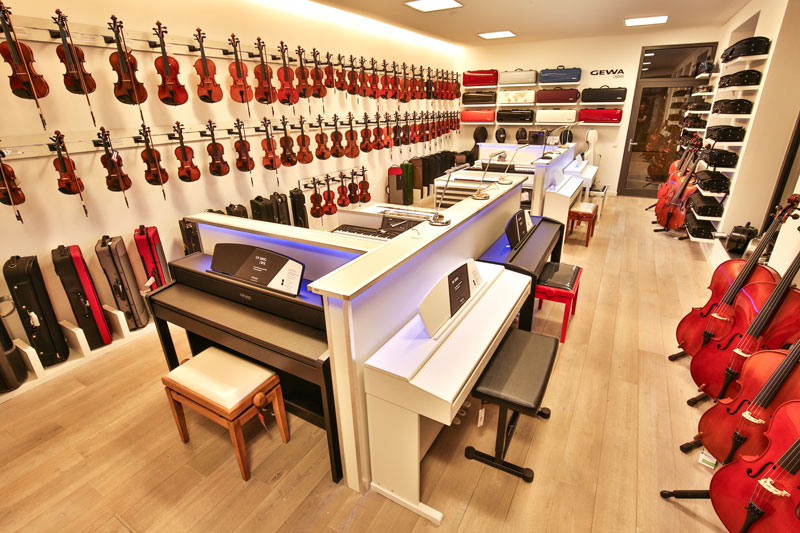 Digital pianos
A unique selection of digital pianos invites you to try them out. Casio and GEWA are leading manufacturers and work in constant contact with us and our customers to improve the sound and originality of the playability. All instruments are manufactured in Germany.
-> TO THE BRANDS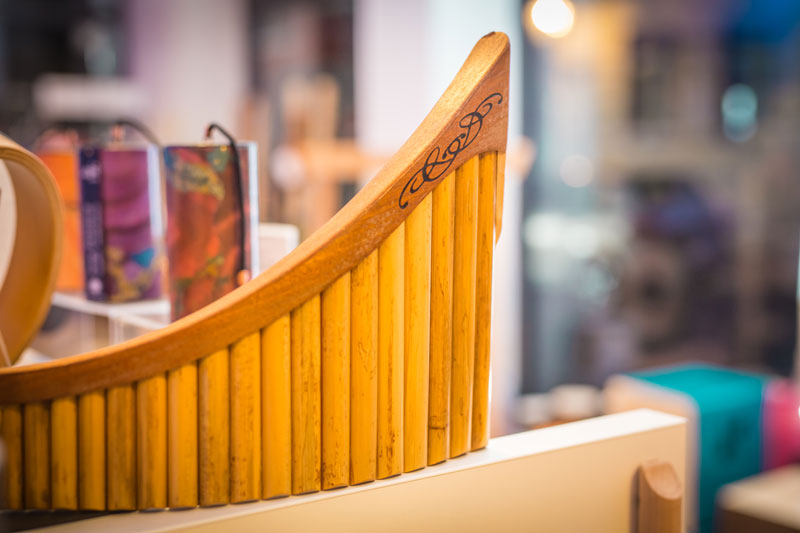 World music instruments
In addition to representatives of classical musical instruments, of course you will also find instruments from different countries and cultures. From the jew's harp to singing bowls, various percussion instruments, Koshi sound chimes or the heavenly sounds of the Zaphir wind chimes up to spherical hand flatterers, you can go on a journey of discovery with us. All instruments are made in Germany.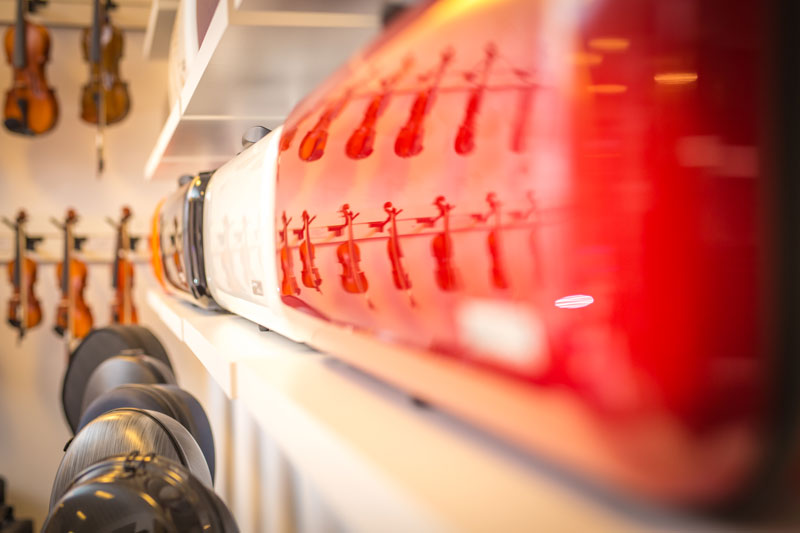 Cases
We have the right case for every instrument. Softbags and stable cases for violins, violas, cellos and guitars are available in numerous shapes and colours. Whether made of fabric, wood, glass fibre or carbon, here no wishes remain open.
-> TO THE BRANDS
Strings & Accessories
The dc-musicstore offers you Saxony's largest and most comprehensive range of strings for violin, viola, violoncello and double bass. You will find strings from leading manufacturers such as Pirastro, Thomastik, Larsen, D'Addario or Jargar as well as strings from lesser known manufacturers. Also available are strings for concert, western or electric guitars, ukuleles as well as for Auris and Choroi children's harps.
We have a comprehensive range of accessories for string and wind instruments as well as keyboard and plucked instruments. Whether music stand or conductor's baton - with us you will find what you are looking for.
-> TO THE BRANDS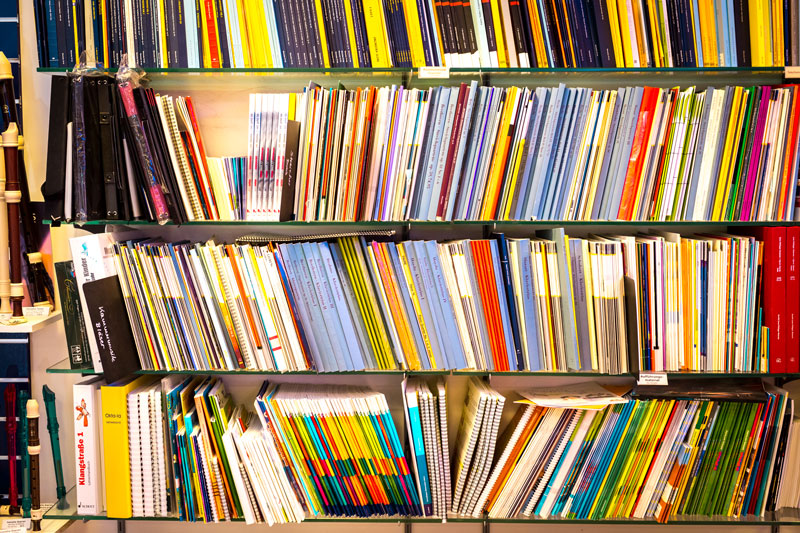 Sheet music
In the dc-musicstore you can easily find the sheet music you are looking for. Our huge assortment includes different music styles, instruments and instrumentations as well as sheet music from leading publishers such as Henle, Bärenreiter, Peters, Carus, Schott, DeHaske, Alfred Music Publishing and many more. Should you not find what you are looking for, we will be happy to help you with your research. Of course, we also accept orders for sheet music, which you can pick up on site or have conveniently delivered to your address.